2005 JIB Awards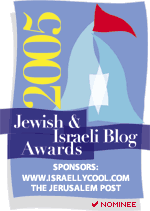 Cox & Forkum is proud to be a double nominee in the 2005 Jewish & Israeli Blog Awards, hosted by The Jerusalem Post and israellycool.com.
In the first round of voting, which ends Jan. 19th, we are nominated for the Best Jewish Humor Blog -- click here to vote and please vote no more than once every three days as the rules specify. Some of the humor blogs we frequent are also in the running, so be sure to visit: The Dry Bones Blog, This Blog is Full of Crap, Aaron's cc and Protein Wisdom.
We are also a nominee in the Best Overall Blog category, but voting does not begin until Jan. 24th during the second round.
Our thanks to the JIB Awards organizers, to those who nominated us, and to everyone who has voted for us. We're honored to be in such good company.
Below one of our Israel-related cartoon (from November):
Posted by Forkum at January 11, 2006 04:12 PM